The

SPEED

Change

® Project PDF eBook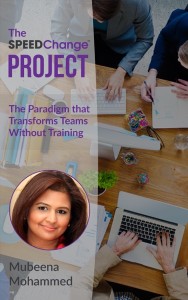 The Paradigm That Transforms Teams Without Training
Authored by Mubeena Mohammed
Foreword by Roland Sullivan
[purchase_link id="411″ text="Add to Cart" style="button" color="orange"]
Publication Date: Sep 14, 2015
ISBN/EAN13: 1516810023 / 9781516810024
Page Count: 64
Language: English
Color: Black and White
Description: In the 6 intense chapters of this book, read about:
1. How most training initiatives fail to bring change in actual job performance
2. Myths used in today's training and change management industries
3. Why individual learning cannot occur completely without change in the 'whole system'
4. Why today's business environment needs a far superior methodology of developing talent
5. Principles of a new paradigm called The SPEEDChange™ Project
6. Predictions of future business practices that are inspiring leaders right now
Have you as a business leader grappled with these questions?
• Why is it a struggle to justify the training budget in your company?
• Has training failed to bring significant change in job performance?
• Do your people avoid applying training outcomes back on to the job?
• Is your high potential talent left bored and disengaged with training?
• Are your employees resisting learning anything new?
If you are a CEO, HR Manager or Department leader and have answered YES to any of these questions, it may be time to re-evaluate your current ideas and beliefs about training. Leaders need to face the truth behind why most training initiatives fail, and to know why our current training techniques are simply not enough to develop talent and meet the business needs of the current milieu.
This ebook offers an explanation about the ineffectiveness of traditional training and change management, where ROI is not justified. When training does not work, The SPEEDChange™ Project may be your answer. Besides inculcating learning, this new paradigm offers a new way to generate team alignment, behaviour change, and buy-in without the need for trainers, speakers, or outside experts.
It is time to say goodbye to experts and trainers who come and go with boxed programs to be forgotten the day after. And say hello to learning and application surfacing from within your core team, to generate results so huge that they do not have to be incrementally measured.
[purchase_link id="411″ text="Add to Cart" style="button" color="orange"]